Impress your parents this Parents' Weekend by taking them to the best eats in Tallahassee.
Whether this is your first Parents' Weekend or your last, you don't want to take your mom to Guthrie's on a Friday night (maybe your dad, but that's a case-to-case basis). Take them to a charming café or a fancier restaurant – if Dad's paying, let's go all out! If you're struggling on finding a perfect place to eat this weekend, here are my top favorites (not in any specific order):
Jeri's Midtown Cafe
Jeri's is a cute and charming café with a friendly atmosphere. This café is the perfect place for brunch or lunch! They offer soups, salads, and sandwiches all with a little twist. They offer indoor and outdoor seating, so feel free to bring a furry friend. Jeri's has a one-of-a-kind menu that has something for everyone. They have a drink menu for a Saturday or Sunday brunch and bring you complimentary pimento cheese and crackers. Jeri's also has gluten-free and vegan options. Order ice coffee or a latte from Argonaut Coffee, located directly upstairs! Argonaut is a somewhat new coffee shop in Tallahassee and is my personal favorite. The restaurants work together to bring you the best experience, so you can order Argonaut Coffee from your table inside Jeri's. I recommend trying their grits and apple butter – it's to dieeee for. Jeri's is located in Midtown and shares the building with other businesses such as Izzy Pub and Sushi (which I have yet to try!), Argonaut Coffee, and Midtown Reader (my favorite bookstore of all time!).
Em's Fav: The TAB sandwich, a side of apple butter and grits, and a sugar-free caramel ice latte – or a mimosa (if I'm feeling bubbly).
https://www.jerismidtowncafe.com/
Midtown Caboose
Midtown Caboose is for the burger lovers and the football fans. It is a family-friendly American restaurant with innovative burgers, sandwiches, and salads. On football weekends they play popular games on their many monitors. Midtown Caboose is famous for their peanut butter and jelly hamburger – yes, you read that right. I personally haven't tried it (yet), but many people have told me it's surprisingly good. Midtown Caboose offers many other award-winning signature burgers, ranging from sweet to spicy. They also have gluten-free options.
Em's Fav: Robbie's Revenge sandwich with sweet potato fries.
Hopkin's Eatery
Hopkin's is a beloved Tallahassee staple with three locations in the city. It's a better, homemade version of Panera with a Mom-and-Pop feel. Hopkin's is the perfect lunch spot! They offer hot and cold sandwiches, soups, and salads all made with fresh ingredients. Their north location offers a gluten-free bread option. Hopkins' also makes the best dessert! What makes them unique is their mint sweet tea – I strongly recommend it.
Em's Fav: The turkey sauté sandwich with mint sweet tea.
Hobbit
Don't be fooled by the name, Hobbit isn't a folksy Lord of the Rings themed restaurant (though that would be amazing). The famous Hobbit character may be its namesake, but the restaurant is a classic American grill with amazing wings and hamburgers. There are three locations in the Tallahassee area, but my favorite is on Pensacola Street about half a mile away from Doak Campbell Stadium. They have multiple screens always playing different sports games and events. The environment feels like a local Beef-O-Brady's with a warmer and more genuine quality. You can sometimes find football players eating a late dinner there after a home game. It's a Tallahassee staple!
Em's Fav: Honey mustard wings with tater tots.
https://www.myhobbitonline.com/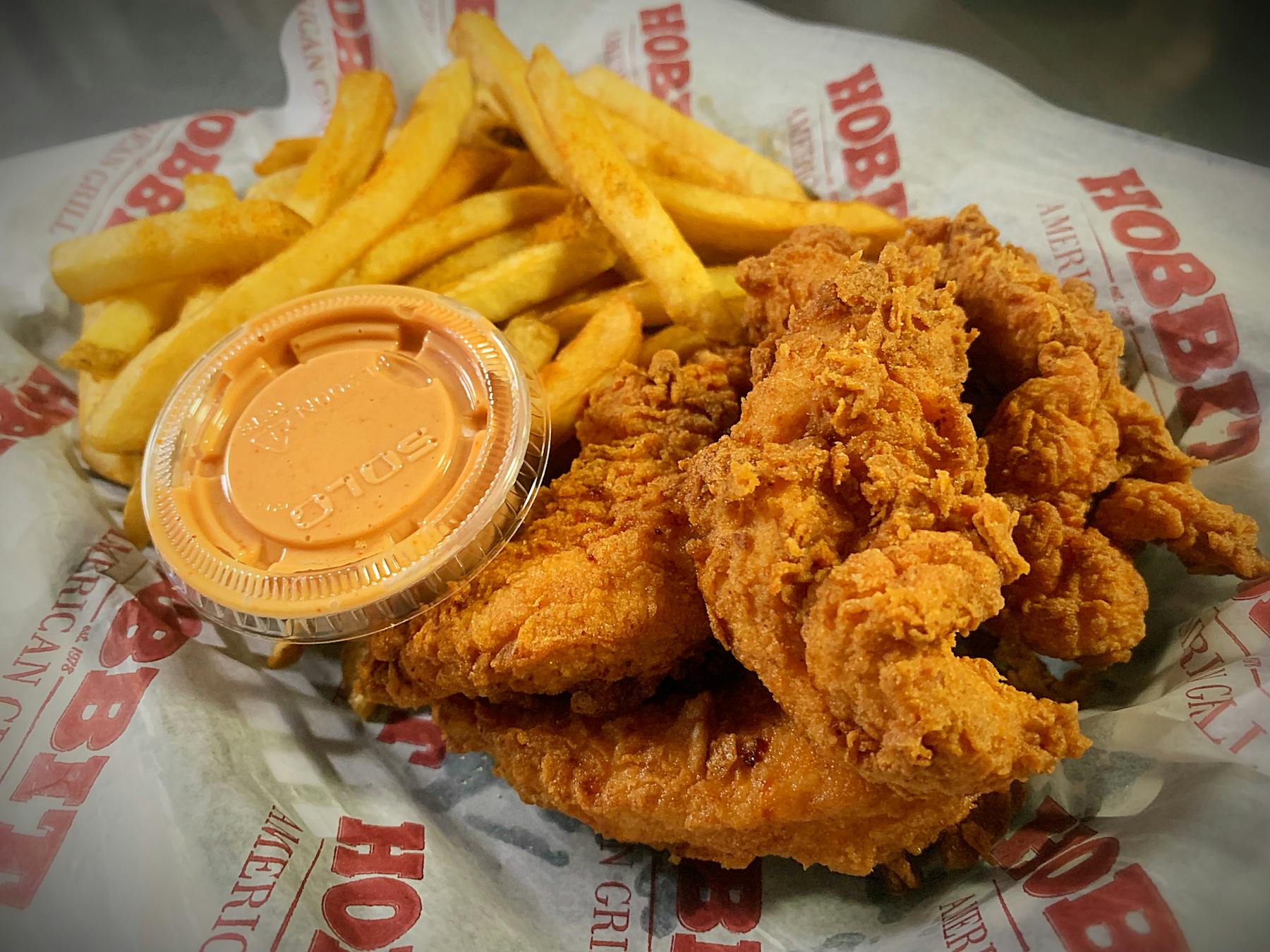 La Tiendita Mexican Restaurant
If you're craving Hispanic food, La Tiendita is the perfect place for you. Located near Midtown off of Monroe Street, La Tiendita serves authentic and amazing food in a quaint and colorful setting. They offer indoor and outdoor seating as well as a Mexican cuisine or Brazilian cuisine menu. La Tiendita also has a store inside the restaurant that sells Brazilian and Mexican candy. If you're 21 or older, I recommend their mojitos!
Em's Fav: Enchiladas rojas with chicken and a mojito.
Backwoods Crossing
Last, but definitely not least, is Backwoods Crossing, a gourmet restaurant serving fresh farm-to-table goodness. It's the priciest restaurant on this list, but it is worth every penny! The owners of Backwoods Crossing grow their own produce on their farm as well as source their ingredients locally. Their menu is full of fresh vegetables, fruits, meats, and seafood options. Backwoods Crossing dishes are exquisite, original, and progressive. If you are looking to dazzle your parents and get a good meal, Backwoods Crossing is the place to be! It is outside of Capital Circle and resides in a quieter part of Tallahassee. Check out their website! You can see cute pictures of their farm, hens, and their garden cat, Athena.
Em's Fav: Any of their seafood options – it's all amazing! And their sweet potato mash.
https://www.backwoodscrossing.com/
I hope one of these restaurants is a perfect fit for you and your family! When you're eating lunch or dinner, remember the real adventure isn't the food you're eating, but rather the people you're with. Savor time with your loved ones like the best dessert!
Thank you for reading. Like and comment down below and don't forget to subscribe to Adventures With Em!